HOW TO GET A TAX REFUND IN KOREA
The Tax Free System in Korea can be divided into "Duty Free" and "Tax Refund." In Duty Free shops, no tax is added to the price of the item, including Value Added Tax (VAT) and Individual Consumption Tax. These stores are generally run by large department store chains, including Lotte, Shilla and Shinsegae among others, and are located within airports and in the cities.

In comparison, Tax Refund is a system where shoppers buy items at full price, including tax, then apply for a refund on the paid tax before leaving the country. In general, tax refunds can be received by submitting the applicable receipts at the proper tax refund booth when leaving the country. At certified Tax Free stores, you can also receive your tax refund immediately.

Guide for Tax free shopping
1. How to get immediate Tax-free refund at Tax free stores
To get an immediate tax refund on purchases at Tax Free stores, you must show your
passport. Items must cost more than 30,000 won and less than 500,000 won, tax included, in one payment to be eligible for an immediate tax refund. The immediate tax refund is limited to a total purchase amount of less than 2,500,000 won during the entire travel in Korea.
Eligible shoppers
Must spend over 30,000 won and leave the country within three months from the purchase date, and meet one of the following qualifications:
- Foreigner (Stayed less than six months in Korea)
- Overseas Korean (Living over two years in a foreign country / less than three months in Korea)
- Not paying Korean taxes
2. How to get Tax-free refund after shopping at Tax free stores
[Step 1] Keep your VAT refund receipts when purchasing items.
Receive and keep VAT refund receipts when purchasing items.
Before making your purchase, be sure to check that the retail business is a participating store of the certified "Tax Free" brands offering tax refund services. Shops with the refund service should have signs written "Tax Free," as well as have "Tax Free" listed on their VAT refund receipts. The maximum amount of purchased goods eligible for tax refund is 5,000,000 won.

[Step 2] Get your tax refund at major airports and service branches around Korea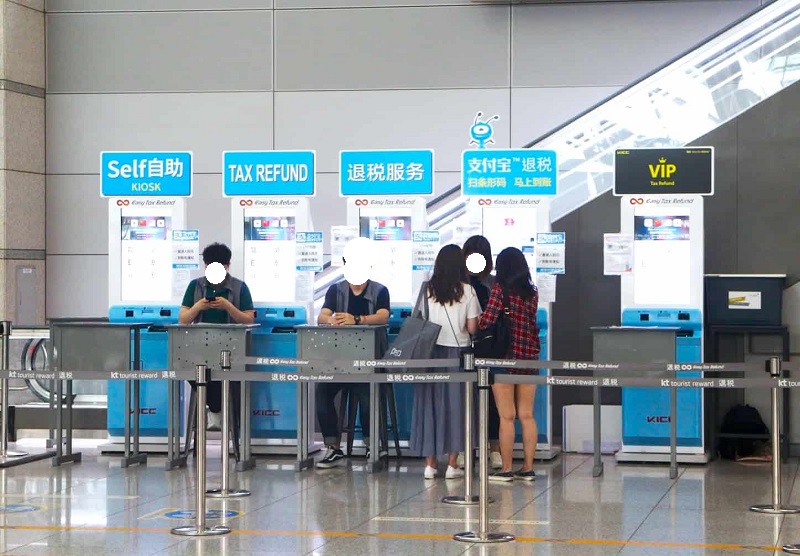 1. At Incheon International Airport
Get your boarding pass but do not check in your luggage.
Show the purchased goods and VAT refund receipts to the customs officer and get the Customs Export Approval stamp on the receipts. For a total refund of less than 75,000 won, you can use the kiosk machine. However, please be aware that the kiosk system may not always be available.
Proceed to the oversized baggage counter at the check-in area and check-in your luggage.
Proceed to a nearby tax refund counter or kiosk machine with your passport and tax refund receipt. Actual cash refund can be received in the Duty Free zone after security inspection and screening.

Tax Refund Counters
Public area: 3F Check-in counters D & E in Passenger Terminal 2
Duty Free zone: 4F Gates 26 & 27 in Passenger Terminal 1 / 3F Gate 253 in Passenger Terminal 2

Tax Refund Kiosk Machines
Public area: 3F Check-in counters D & E in Passenger Terminal 2
Duty Free zone: 3F Concourse near the central pharmacy, 3F Gate 28 & 27 in Passenger Terminal 1 /
3F Gates 250 & 253 in Passenger Terminal 2
2. At other tax refund booths available outside of airports or ports
Present your purchased goods, VAT refund receipt, passport, and international credit card at the VAT refund booth to get an on-site refund in cash. However, if the tax refundable goods are already endorsed with clearance to carry out, the receipt must be submitted at the customs office or designated refund service desks. Another note to remember is that tax refund booths outside of the airport can only provide refunds offered by their respective company. Only the booths inside the airports and ports can provide total refunds, regardless of company.


[Step 3] Get immediate discounts while shopping!
Immediate mobile discount service (Mobile TaxFree Service)
During checkout on mobile, the discount is applied immediately to your total purchase amount. No need to
go through the hassle of getting your tax refund at booths or the airport!